The best part about being a coach is that you get paid to make major transformations in people's lives. Notice the key phrase there: getting paid. Making actual money in the exchange for goods and services. When you're starting your own business it can be hard to start bringing in a consistent flow of income. This is why I've gathered a few tips on how to make the transition a bit easier. Today I'm sharing with you 3 ways to get your first paying coaching clients.
Before we get into it, I want to express that there's nothing wrong with conducting your first few coaching sessions for free in exchange for testimonials. It can be a great way to dip your toe in the water. What usually happens is that you go into this session with less pressure because it's unpaid, you get your client massive results, you experience how much work it is, and then you feel more confident about charging for your next one. If this is how you want to ease yourself into the arena, I have no qualms with that. However, at some point, it's going to be time to get paid.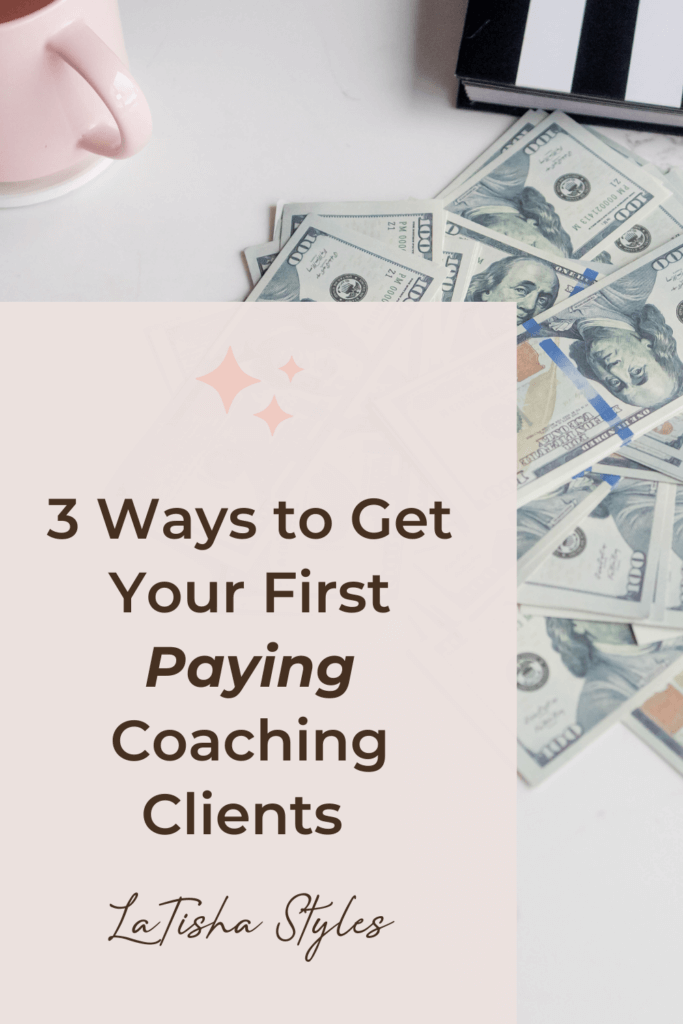 3 Ways to Get Your First Paying Coaching Clients
3 Ways to Get Your First Paying Coaching Clients Step 1: It's time to let people know that you're a coach. 
One of the biggest mistakes I see new coaches make is that they never truly announce their new business. You go on their page and it actually can be really hard to figure out what they do. If you actually want clients, and you expect this to be your full-time income, then you HAVE to let people in on the scoop! 
One of the first things you can do is update your profile settings and information. Some get all up in arms about privacy settings and sharing their lives with people they don't know, but I have to say, this is the age of the internet. Nothing is really private. However, if you are that concerned I recommend starting a separate business account that is public and you can tailor the content to be strictly professional and only share what you're comfortable with. You will also need to update your bio to say "coach", to explain what you do and who you do it for, and where to find more information via the link.
Your clients need to know if you're a right fit from the second they land on your account. 
Secondly, try to go out there and talk to some people. Do some networking events and get comfortable with saying this is what I do. Start with "Hey, I am a coach", then gather your core benefits statements. For example, I would say, "My name is LaTisha and I help coaches create and fill their coaching program." 
You've gotta be able to specifically tell people what you do. If you're not quite sure yet then just kind of play around with a couple of different things. I remember I used to say, "I help coaches gain more clients, or "I help coaches create webinar sales funnels", and "I help you take an existing skill and turn it into an online business." You can grow and mature and go from a caterpillar to a butterfly. So it's okay if it's not perfect right away, but you've got to make it known.
3 Ways to Get Your First Paying Coaching Clients Step 2: Start reaching out to your network and offering 15-minute coffee chats. 
If you're an introvert and this freaks you out, trust me, 15 minutes goes way faster than you'd think. 
Think of this as an opportunity for you to catch up with people. You don't just have to say, "Hey, I want to talk to you about what I'm doing now," but you can open the conversation. Catch up with what they've been up to. Then as the conversation progresses you can say something like, "well, I'm doing coaching now and I'm looking for this type of client." 
It's like you're creating a mini sales force by telling individuals what you do and what you offer. In most cases you're going to get one of these three responses:
"Oh, that sounds really good. That sounds like something I need."
"Hey, I have a friend who I know, so-and-so needs that." 
"I don't know of anybody right now, but if I think of someone, I'll be sure to keep your name in mind."
The point is, it's a numbers game. The more people you have an opportunity to chat with, the more likely you are to potentially get a client via referral.
3 Ways to Get Your First Paying Coaching Clients Step 3: Actually, make an offer. 
A lot of new coaches fall into a trap when they get onto a discovery call with a potential client, with a friend, or with someone who has expressed interest. They get on the call and just start chatting it up. Having a good old time getting into a conversation, but they never actually make an offer. They never say, "Hey, I think you'd be a great fit for this coaching program. Is it okay if I tell you a little bit more about it?" Which is the entire point! The key is to make an offer. 
Tell them about what your coaching program is, what it includes, how many weeks it is, how many calls they get, what that outcome is, what that transformation is like. Just doing this will increase your client list and income more than anything else.
BONUS TIP for 3 Ways to Get Your First Paying Coaching Clients: Make your offer non-negotiable. 
Stop offering your services for free and stop giving discounts! After you do the testimonial exchange thing the first couple of times, that is IT! No more! You are running a business, you have bills to pay, you have expenses, and your time is valuable. If you start your business strictly charging full-price that will become your standard. You'll be far less likely to settle for anything less. 
Don't let yourself get talked down, don't give the friends and family discount, and don't undercharge based on your client's budget. It's going to be just as hard or just as easy to book someone as a full paying client as it would be to book them as a half-price client. You still have to ask, you still have to make that offer and you know they still have to say "yes". Why not swing the bat at full-price every single time rather than swinging the bat at half price? Just get your money. Especially if you know what your transformation is worth and you've already figured out how to price your coaching program then don't discount it for anybody.
Now that you know the tricks of the trade on how to get paid, it's time to get in front of the clients who are ready and excited to buy your services. This is why I created a course to help you reach more people with your message, get notoriety for your unique style, and stand out to your potential clients.
Introducing NOTABLY YOU …because people buy from people, not businesses. 
What would it feel like to see your work and message in the press? To have brands like Forbes, Business Insider, and The Huffington Post ask YOU for interviews? 
Not because you released a new product, but because you and your message are news-worthy?
When you establish a strong personal brand and you confidently show up in the world, things like this do happen! I know from experience and I've actually done it! In my NOTABLY YOU course I walk you through all the steps on how to develop your pitch, where to find the press, and how to present yourself in a way that grabs their attention.
By the end of this course, you're going to have people asking how they can know more about you and where they can buy your offers.
***All Recordings Of The GET VISIBLE GET CLIENTS CHALLENGE***
As well as…
How to create an influencer ad
The easiest way to get press features… plus a pitch template you can use right now
How to create a pitch deck to get speaking engagements and media features
Email templates you can use to reach out to brands, press, and potential partners
Use this software to supercharge your personal email so you never miss an opportunity (or have to remember to follow up!)
How to get speaking engagements (free and paid) and when you should go after each one
How to create a television pitch. I'll share the one that I used to get featured on CBS not once but 3 times!
How to create content that gets noticed.
The #1 location journalists hang out, and how to get their attention
This is so much more than a course. This is the foundation that will carry you through your entire coaching career and business.
These are strategies you can use over and over again throughout the lifespan of your business.
These are tools you can use as you shift and pivot throughout your business.
You can use these tactics anywhere and they'll last forever.
Click here to learn more about the course and hear about other client's past experiences!