As a 6-figure (soon to be 7-figure) coach, there are definitely some lessons I've learned along the way. I've done the trial and error, I've undercharged, had flopped webinars, and pretty much everything in-between. This is why today I'm taking you through the three things I wish I knew before starting my coaching business.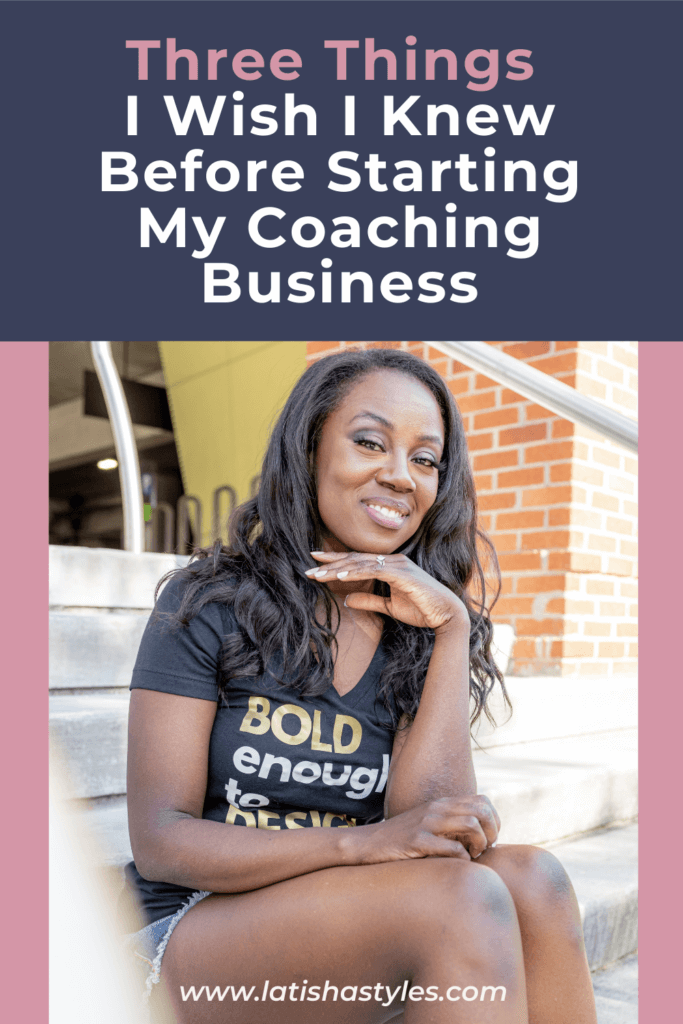 #1 in the Three Things I Wish I Knew Before Starting My Coaching Business: You have to see yourself there before anyone else will.
You have to believe in yourself, and know your path before you can get validation from everyone else. This was huge for me because when I first started there were some friends and family members that couldn't quite grasp my vision. They made sure I knew it too.
It can be hard to go against the advice of people who love you. To have to agree to disagree on the terms of your future.
… but you're the visionary.
As the business owner, entrepreneur, and leader of your life, it's your JOB to dream. It's your job to see what could be before anyone else does. Sometimes that means holding the faith all on your own.
This was honestly really challenging for me in the beginning. As a baby business owner, I was so excited about starting my business. I knew exactly what I wanted to share, I knew how I wanted to share it. I knew the type of people that I wanted to reach, and I just saw it in my mind. My imminent success was so clear to me.
Unfortunately everybody else around me didn't quite see it — and I let it take the wind out of my sails.
This is why as a new coach I want you to be prepared that you might have to hold the vision alone. To please not let that discourage you in the slightest. If you have friends or family members that don't support what you see for your life, it's OK.
A lot of people are scared to see you succeed, and you know what? It's really not about you — it's about them.
If you succeed, then that means they'll have to face what they're scared of doing, and you'll be the proof that it's possible.
Being an entrepreneur is lonely because there's a very small percentage of people willing to go out on their own. We're kind of crazy, but trust me, it's so worth it. Hold the faith, and believe in your dream. If the naysayers get too in your head, stop explaining and start showing. The quickest way to quiet a hater is to show them your results.
#2 in the Three Things I Wish I Knew Before Starting My Coaching Business: It's okay to stretch yourself before you think you're ready.
Spoiler alert… a lot of times you won't be ready.
You will feel like you've got to just do this one little thing, and fix this little other thing, and tweak this thing and, "oh wait, you've got this whole plan that you've been working on that you've just got to execute first before you do this other thing."
Any perfectionists in the room that can relate?
It's OK to not be ready yet and just do it anyway, that's why I say stretch yourself.
Getting uncomfortable and just doing the darn thing can cause you to act and step into the next level.
A specific example for me is the time I wanted to invest in a coach, and I didn't think I was ready at all. The investment was $8,000 and it's not like I just had the cash on-hand. My coaching practice wasn't making that much at that point, and I think if I were to break down the payments, they were exactly what the business was making at that point.
I had only one client at the time, but I knew that making that investment was going to allow me to expand and move into the level I wanted to be. In hiring that mentor she pushed me to put myself out there and do things that were way out of my comfort zone.
With her, I was stretched financially and within the work, she was having me do — and then I made $11,000 in a month. I had never been more uncomfortable in my life, but that $8,000 investment taught me how to make consistent 5-figure months from there on out.
That's what I mean by stretching yourself.
When you reach outside your normal safe place and you essentially force yourself out of your comfort zone, you start doing things that you would never have done before — because they weren't comfortable.
It won't feel good at first, but you grow with it. Then your business and your bank account will follow suit.
#3 in the Three Things I Wish I Knew Before Starting My Coaching Business: It's not okay to "get ready" to get ready.
This can be categorized under "procrastination" but also "perfection".
You know me, you know I'm a bit of a perfectionist, but you can't let that stop you from launching, and I've had to learn that the hard way. For example, I could let myself get caught up on itty bitty details in the background of my YouTube videos and I could spend all my time messing with that than actually filming.
Sometimes you're going to have to push that perfectionist to the side and just go for it!
You're going to have to go before you're ready. A perfect example of this is we were in Playa del Carmen for the Royal Retreat and we went ziplining for our excursion.
I remember the first people who went, (my sister, Debra included) were very nervous. To put their mind at ease the guy said he was going to count to three. They anxiously waited as he said "one", "two" — and then he pushed them off before they were ready.
They were waiting to hear "three" and I feel like that's what happens in our business a lot of times. Sometimes we just need to go on two. They had a great time and if you wait for that "number three" sometimes you anticipate the "could be's" way too much.
If I could advise you as a new coach, I would say that you just have to go before you think you're ready.
Lastly, I have a bonus for you in the Three Things I Wish I Knew Before Starting My Coaching Business: Be okay with failing forward. 
I say "failing forward" because a lot of people think that failure means that they're stuck. That they have to start over. NOT TRUE!
Failing means that you learned and you took a step in the right direction. It's just a stepping stone on the path to success.
Now, after taking a stroll down memory lane, I remember what it was like just starting out, and how nice it would have been to have a boost in the beginning. This is why I created my new course Create & Fill.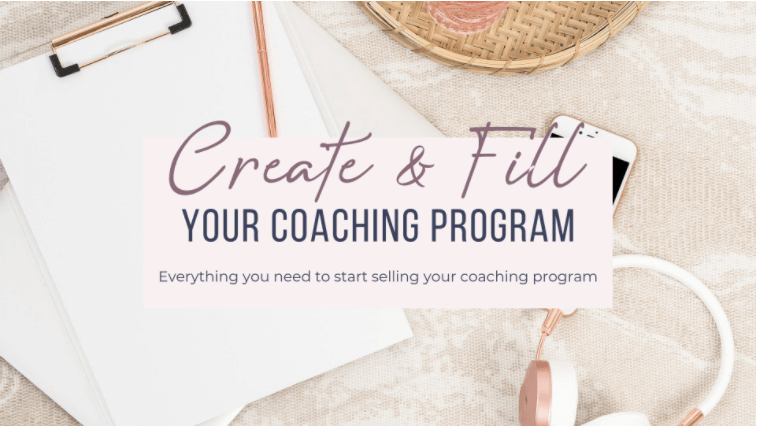 Create & Fill is a step-by-step ourse with everything you need to create and sell your signature coaching program.
In Create & Fill, I share exactly how to structure your signature coaching program, what content to include, how to get clear on your ideal client, and how to meet them right where they are, so you can attract them with your message.
By the time you complete Create & Fill, you'll know how to price your coaching program, how to pitch to high-quality clients, where to find actual buyers (yes they hang out in specific groups), and what to include in your program.
I'm so excited to share this with you because as someone who literally built a coaching business from scratch…
…with no network
…little experience (or so I thought)
...no email list
…and no clue
I'm here to tell you that it's 100% possible to create a signature coaching program that gets results for your clients, and creates a sustainable income for you.
I spent months and months figuring all of this out. I failed over and over again, but I kept getting back up.
The Create & Fill Your Coaching Program course is a brain dump of everything I've learned over the past few years.
Now you get to skip all the hard stuff and just do what works.
I'm going to share everything you need to start selling your signature coaching program, and as always, I make sure you have everything you need to succeed.
That's why I'm sharing:
Worksheets
Checklists
Launch guides
Click-by-click tech walkthroughs
My personal sales scripts and,
Video trainings
You'll also get an additional training on How to Overcome Objections and, the actual coaching contract I use for one-on-one clients.
It doesn't stop there.
My goal for you is that you become confident selling at every level, even when selling coaching packages priced at $10,000 or more.
That's why you're getting the best-selling program Package & Profit which will help you continue to upgrade your marketing as you begin selling higher-ticket coaching packages.
*PAY IN FULL BONUS*
Inside this 4 part video series I walk you through the mind of a high-ticket buyer, how to position yourself as a high-ticket coach, how to price your high-ticket offer, and how to close sales of high-ticket packages.
Just because you start at one price, doesn't mean you have to stay there.
I'm living proof.
I started selling my one-on-one coaching at $800 for 8 weeks. And now the investment for my coaching programs range from $3,000 to $36,000 and up. Clients invest in retreats, one on one coaching, group coaching, and high-level courses.
But more important to me is the clients that I've been able to help. They've been able to get results like booking their first clients, shifting mindsets, and generating six-figures in less than a year.
Join us and start reaching your full potential.
It's time to finally create and fill your coaching program.
P.S. If you're joining this program today, you're going to LOVE the additional support you're getting, so you never feel left behind.
Immediately after registering, you'll get access to our private student group.
You can network with fellow coaches, former students, and share your wins.
And if you ever get stuck while moving through Create & Fill Your Coaching Program, you'll be able to get peer support and you'll also get help directly from me.
I am active in the group sharing updated trainings, additional tips, and live coaching calls.
You'll have everything you need to finally create and fill your coaching program.
For testimonials and more about the course click here!